Welcome! We're so excited to share the big updates of Studios 3 with you!
We're brushing off the dust from our latest Studio construction. Read on for how we're including feedback and coffee during your practice sessions! ☕️
This release is all about Studios, the heart of the Tonic app. Our Studios aren't just a place to practice—they're a place to perform for an audience, get feedback, and be vulnerable. It's awesome when we see people from all walks of life share their music in a Studio, and we love it even more when members of the community take the time to listen in, support and encourage each other. Because of that, we recently spent months diving into user research and community feedback and developed a newer, better version of Studios. Here's what's new:
General look and Studio setup
Our Studios have an entirely new look! (Can you spot all the differences?) One of the main changes is the ability for people to control and customize their own studios. People can select a theme or instrument that their Studio revolves around (we'll save and remember frequently played instruments), and add a description to display. They can also curate a playlist of songs or techniques to highlight what they're playing in their Studio.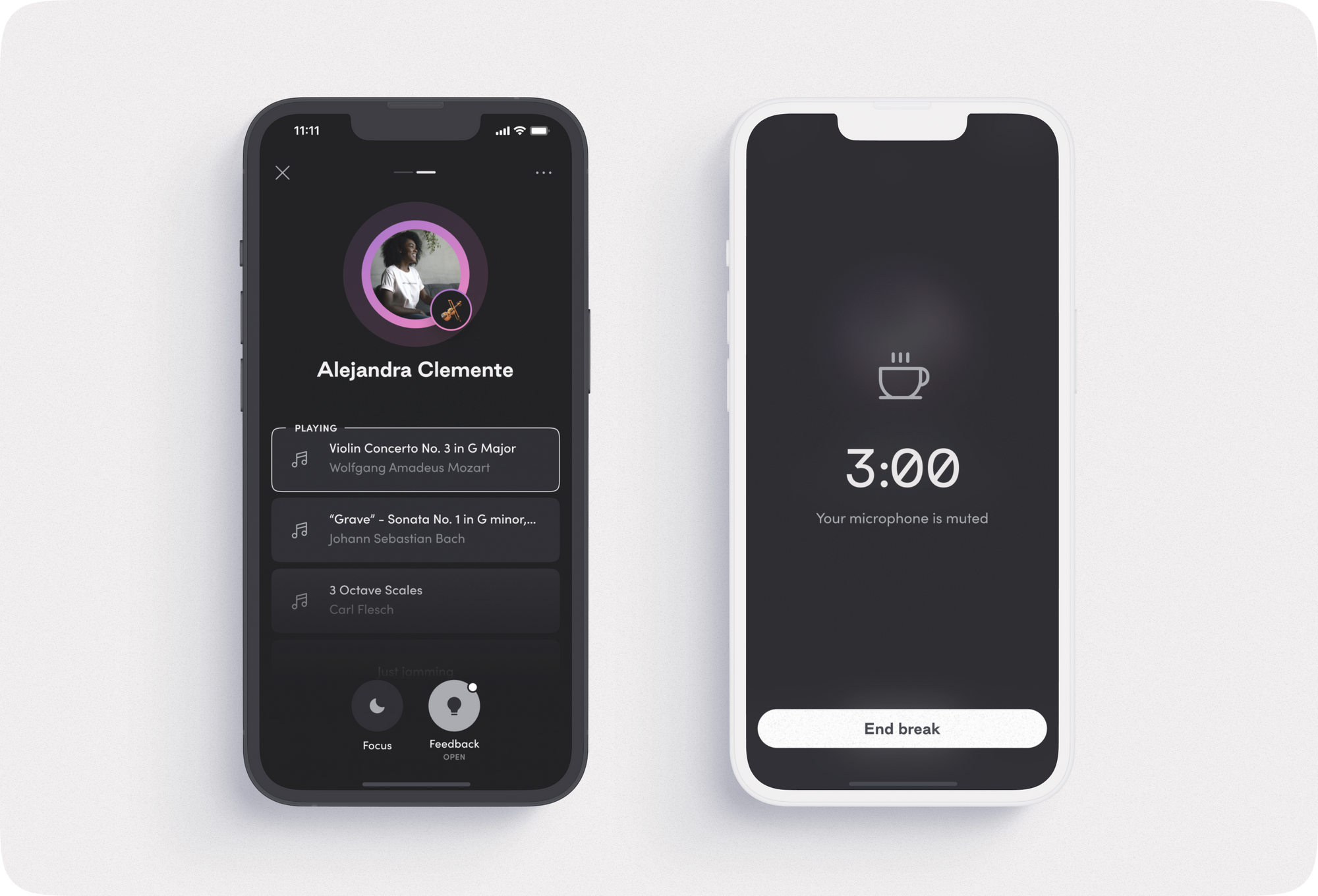 Studio owners now have increased control over their experiences, too. They can change studio descriptions on the fly, view upcoming playlists and toggle to go to the next song, enable focus mode to disable the chat, and turn Studios private or public at any time.
Coffee breaks
Need a break during all that sharing? Players in a Studio can now start a three-minute "coffee break," which mutes your microphone and displays an on-screen countdown the audience can see, and end the break at any time.
🎉
We're always daydreaming about our next improvements and new features, and you'll be seeing a lot of changes in the app in the months to come.
Feedback mode
Another new feature that we're particularly excited about is feedback mode. In feedback mode, studio owners can ask their listeners specific questions like "do I sound flat?" By entering a specific question, the studio owner opens a feedback request. The audience sees the feedback request and can respond. The Studio owner can review all feedback notes during their session or at the end of their Studio. We're hoping this helps you get better advice and support on your works in progress than ever before.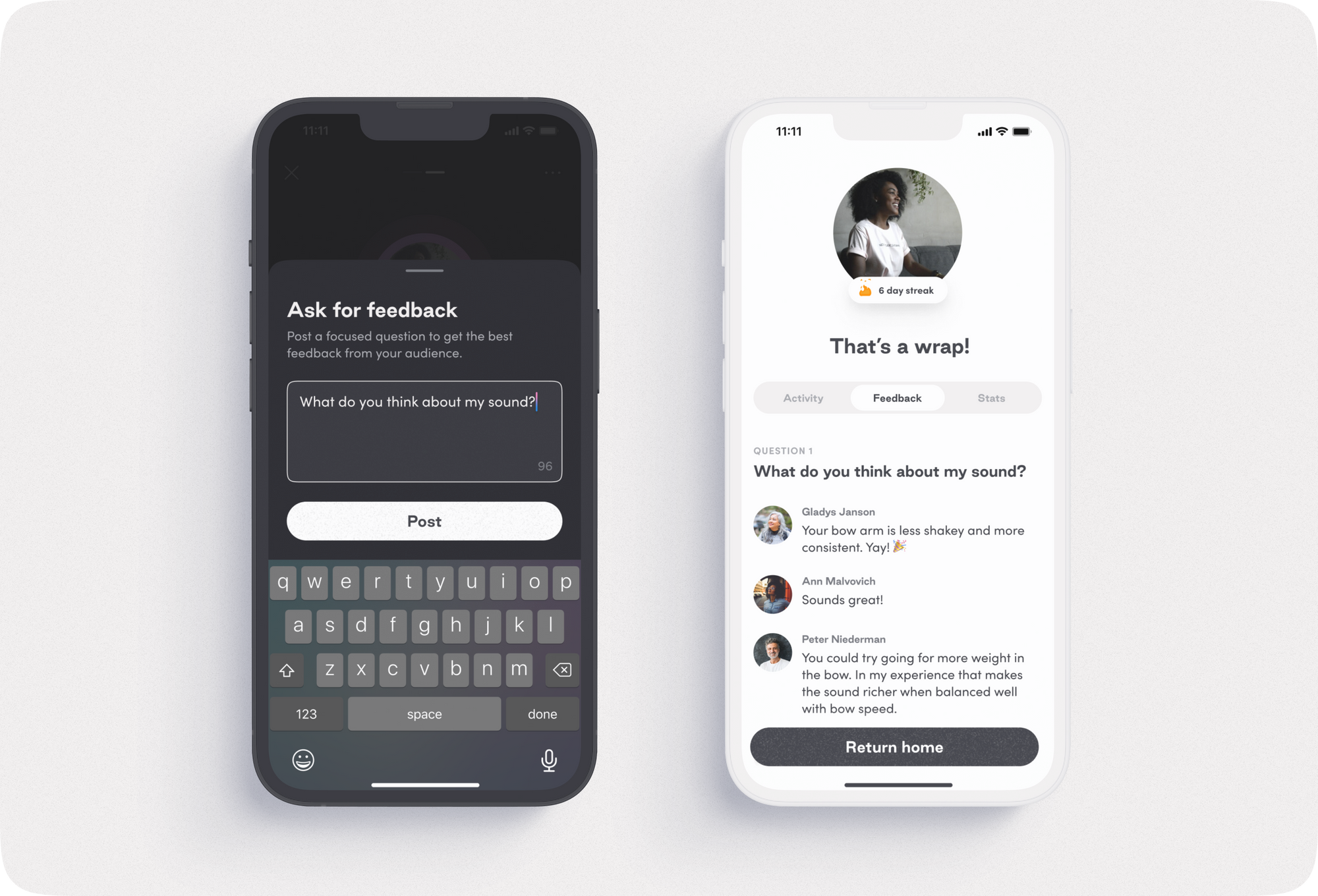 Other stuff, too!
You can now invite other people to Tonic through Group links, so you can collaborate with more musicians and invite your friends to our community. Plus, we fixed several bugs related to reloading counts in private Studios, Studio end stats, and Studio audience counts. We improved the distinction between public and private Studios, and added a success indicator when inviting friends to Studios.
What's next for Tonic?
We're always daydreaming about our next improvements and new features, and you'll be seeing a lot of changes in the app in the months to come. In our next release, keep an eye out for updates in how things look—new animations, and clearer notifications in Studios around people joining, and feedback requests are only going to be a small part of it. We also want to improve the process of joining a public Group.
As we work on building a musicians' community where sharing is simple, helpful, and fun, we appreciate your feedback at every step.
Your virtual coffee is waiting for you on Tonic—come check it out in our Studios!
Continue the discussion and share your experiences with us on Tonic. Join the Tonic Blog group today.