Introducing the Tonic logo
It's a big day at Tonic— today we're thrilled to unveil our new logo! We believe there is magic in opening up the creative process, so we wanted to share our thinking and passion behind the work.

After welcoming our new name, we soon found ourselves asking — how do we capture Tonic in a logo? To uncover how our identity would evolve, we listened to our community and reflected on what makes Tonic special. The unique parts of the experience that emerged became ingredients we could play with. We began to fold them into different concepts, and because nothing's perfect at first, we iterated until we had the right recipe.
Artistry 🔥
Our members have described the feeling of playing in a Studio as magical — a comparison that motivates us every day. We explored this magnetic feeling through sparks and organic, ethereal imagery. However, magic alone drew us too far into the abstract elements of performance, and we wanted to ground ourselves in our real life community as well.
Tenacity 🎋
We also considered literal tonics, elixirs that strengthen and cure. This definition of 'tonic' is one of the reasons we chose the word as our name; for musicians, regular music practice can feel like a healing remedy, but of course, it also requires discipline and grit. As a symbol, a bottle was unique and memorable, but ultimately felt removed from the diligence of music practice.
Community 🌎
The active and engaged members of our community are at the heart of our identity. The friendships created while members guide and encourage each other are supportive and motivating. To capture this shared journey, we explored more connected wordmarks, as well as other symbols representing echoes or unity. While this idea felt important to keep, it was still missing a core aspect of the Tonic experience.
Vulnerability & growth 💫 🌊
Our community members embrace vulnerability as they learn and practice openly, which requires openness and courage. We explored this theme both directly and indirectly, through metaphors of steps or stages, and mysterious yet inviting doorways. As part of this exploration we decided to steer away from larger, uppercase wordmarks, which embody passion but felt louder and less inviting.
Towards the end of our process we started to hone in on something simpler. An idea that could bring together many unique facets of Tonic, but could also feel focused, timeless, and grow with us. We returned to our roots in music, and the idea that inspired our name—the tonic note.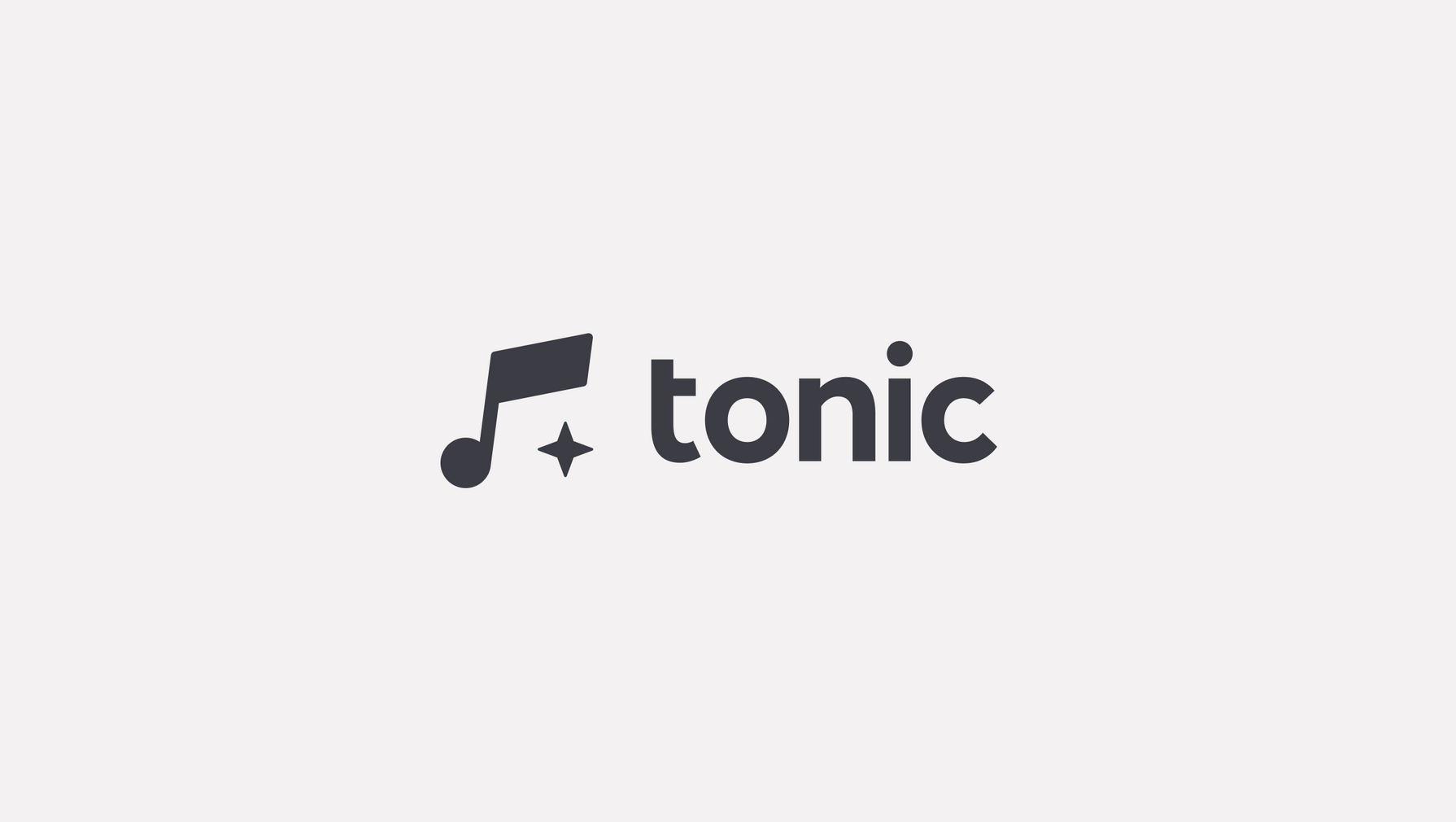 The first of any diatonic scale, the tonic is the root or home of a melody. It's a baseline and a point of return, much like the home we are creating for music practice. In combining this idea of a first note with a spark, our brand mark began to stand for something bigger: music, connection, and growing on a creative journey. That spark and implied next note, the next step, could be anything. Tonic is there as a bridge, and it is up to those starting the journey to take their next step, whatever it may be. Our brand mark, which we named the Tonic Note, symbolizes this journey.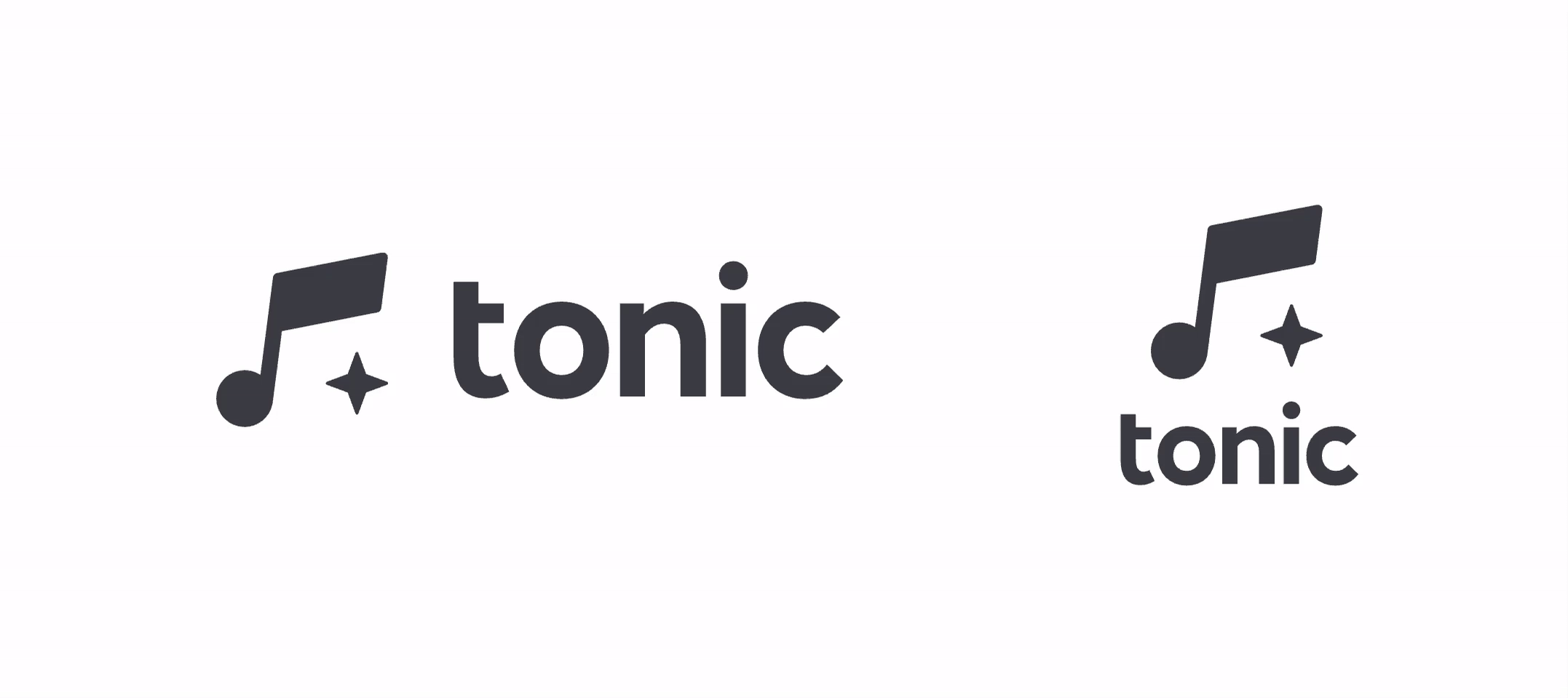 For our wordmark we chose typography that felt open, balanced, geometric and approachable — but distinct. The crossbar in our 't' is clean but asymmetrical, while the terminals on our 'c' are tapered and open, but angled. Nearly perfect circles shape the letters and the tittle on the 'i', echoing the shape of the first circle we see in the grounding tonic note.
We leaned into lowercase because it carries a softer and friendlier tone. We scaled the wordmark so that the negative space surrounding the forms carries a connected rhythm from left to right, bringing a sense of fluidity and forward motion. Finally, we balanced spacing with elements of our brand mark and wordmark, giving everything ample and natural room to breathe.
Since then, we've had a lot of fun exploring different applications of our logo and brand mark, which we think works really well on its own too! We are so excited to finally unveil this part of our continued brand evolution with all of you. Until the next chapter ✨